Activities
As per the schedule 'C' of NIT statutes the role and responsibilities of the Dean (Research & Consultancy) is to conduct activities throughout the year are as follows:
Frame rules for industrial sponsored research and consultancy.
Create and maintain database regarding faculty expertise.
Facilitate through his/her office faculty in procuring equipments necessary to conduct research/consultancy work, recruitment of project staff.
Coordinate co-curricular activities (technical festivals, quizzes etc.) for the students.
Provide guidance for submitting proposals to funding agencies such as Departments of Science and Technology (DST), Bhabha Atomic Research Centre (BARC), Board of Research in Nuclear Sciences (BRNS), Indian Space Research Organisation (ISRO), Defense Research and Development Organisation (DRDO), Aeronautics Research and Development Board (AR&DB), Ministry of Information Technology, etc.
Functionaries
Dean & Associate Deans
Sl. No.
Name
Responsibility
Phone No.
Email
1
Prof. Raman Parti
Dean
254326
drc@nith.ac.in
2
Dr. Rajesh Sharma
Associate Dean(Research Projects & Collaborations, Start-Up)
254730
rajesh@nith.ac.in
3
Dr. Pardeep Kumar
Associate Dean(Consultancy Projects and Testing)
254332
pkumar@nith.ac.in
Staff
Sl. No.
Name
Responsibility
Phone No.
Email
Sh. B. R. Sharma
Assistant Registrar
254049
brsharma@nith.ac.in
Smt. Sangeeta
Sr. Stenographer
254097
sangeeta@nith.ac.in
Research Project and Collaboration Rules and Formats
Highlights of Sponsored Research Projects
The institute encourages Academic Staff to undertake Sponsored projects from various funding agencies. The Rules/Guidelines have been framed to create conducive research environment in the Institute. Similarly, the industrial assignmentsare to be undertaken only in the domain of specialization and all types of industrial assignment shall be treated as Industrial Consultancy. The New Rules/Guidelines for "Sponsored Research Project and Industrial Consultancy and TestingProjects are implemented in the Institute. Sponsored Research Projects have been sanctioned by the various agencies/organizations of the Central and State Government viz. DST, SERB, DRDO, CSIR, ICSSR, HIMCOST, RMSA, Disaster Management,Municipal Corporation and others. The detail of the sanctioned projects is as under: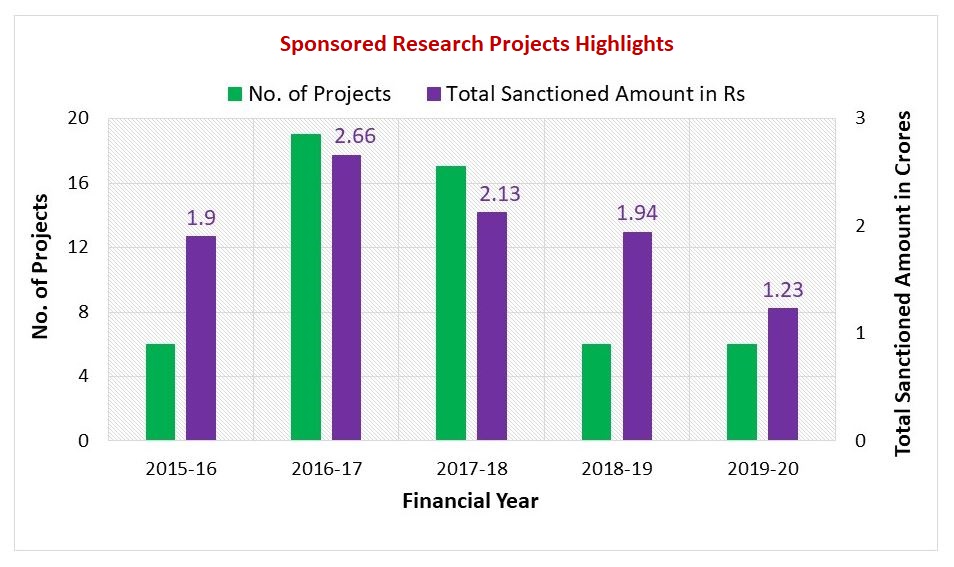 PUBLICATIONS AND PATENTS
In the present context where globalization has become a reality one needs to have autonomy with accountability. One need to develop the competence to make ethical and value added decisions and should be directed towards the institutional commitment. It consists of two major components (i) Quality of Teaching and (ii) Contribution towards generation of knowledge (Research) and these two aspects should be pursued together. Those who choose this path with a selfless attitude have found success and every goal fulfilled. The NITH need to set a benchmarks in terms of student satisfaction level, number of publications, citations, awards, sponsored projects and contribution to institutional management towards brand building, extension activities, revenue generation etc. Today the quality of publication and citations is measured by converting them into business propositions like patents, copyrights, involvement in national development activities etc. The National Institute of Technology, Hamirpur (HP) is providing many facilities for the students and faculty to engage themselves in research activities. The Institute has fully fledged research labs, where the students and faculty take forward their research activities. The research work of faculty and students is well accepted in national and international forums. The research publications are mostly in SCI, SCIE, Scopus, Web of Science etc. well indexed Journals and Conferences. Faculty members have also written/ edited books and book chapters under various international publishing houses. The number of research publications and the patents filed by the faculty members of the institute are as given below.
Incubation, Innovation & Entrepreneurship Cell (IIEC)
&
Intellectual Property Rights Cell (IPR)
| | | | |
| --- | --- | --- | --- |
| Name | Responsibility | Phone No. (01972) | Email |
| Dr. Manoranjan Rai Bharti | Faculty Incharge (IIEC & IPRC) | 254646 | manoranjan@nith.ac.in |
Incubation, Innovation & Entrepreneurship Cell (IIEC) of NIT Hamirpur has been established. Innovative Research Incubation Club (IRIC) is a club for NITH students, which aims to provide a multi-vibrant interdisciplinary platform.
The aims and objectives of the IPR cell are as:


Drafting of an Institute IPR policy.


Conducting of IPR awareness programs in the institute such as workshops, seminars and training course.


Creating suitable course material in order to emphasize the importance of IP rights and introducing IPRs as part of academic curriculum as well as making it an integral part of the curriculum in the institute.


To create an awareness about IPR for faculties and students of the Institute.


To impart training on future endeavors regarding patent filing processes.


To create an opportunity for Product Development and Commercialization.


| Sr. No. | MoU |
| --- | --- |
| 1 | MoU Between RGGEC Kangra and NIT Hamirpur (Signed on 06 January 2020) |
| 2 | MoU Between CSIR-CSIO and NIT Hamirpur (Signed on 11 November 2019) |
| 3 | MoU Between NPTI and NIT Hamirpur (Signed on 07 September 2019) |
| 4 | MoU Between SCL and NIT Hamirpur (Signed on 19 August 2019) |
| 5 | MoU Between IIT Roorkee and NIT Hamirpur (Signed on 17 June 2019) |
| 6 | MoU Between ABVGIET Pragtinagar Shimla (HP) and NIT Hamirpur (Signed on 14 February 2019) |
| 7 | MoU Between NIH Roorkee and NIT Hamirpur (Signed on 08 February 2019) |
| 8 | MoU Between E&ICT Academy Roorkee and NIT Hamirpur (Signed on 15 January 2019) |
Notices and Announcements
All faculty members of NIT Hamirpur are encouraged to submit quality project proposals to various funding agencies viz. DST, SERB, DRDO, CSIR, and others.