Computer Science and Engineering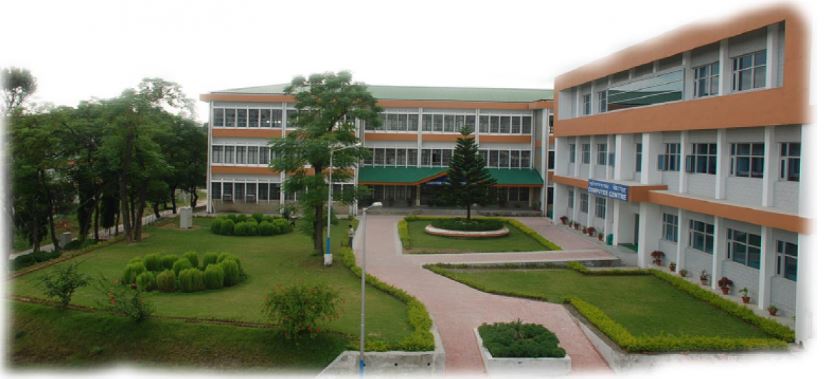 Located in Hamirpur district of Himachal Pradesh, NIT Hamirpur enjoys a really scenic environment and pleasant weather. Established in the year 1986, as REC Hamirpur, NIT Hamirpur has been declared as the Institute of National Importance under the Act of Parliament, 2007. Established in 1989 as the Department of Computer Science & Engineering, we have an excellent & rich history and an outstanding record of contributions to the profession and community. The Department is well recognized for excellence in facilities and teaching.

At Present, the Department offers following academic programmes:
B.Tech. in Computer Science & Engineering (Four Years)
Dual Degree in Computer Science & Engineering [B.Tech. + M.Tech.] (Five Years)
M.Tech. in Computer Science & Engineering (Two Years)
M.Tech. in Mobile Computing (Two Years)
Ph.D. in Computer Science & Engineering
The aim of these programmes is to enable students to acquire specialized knowledge for various subjects in computer science & information technology, as well as to enrich the students personal, social and cognitive development to meet challenges of today and tomorrow. The Department is well equipped with high end computers, latest software & state-of-the-art IT infrastructure and all these computing resources are inter-connected with high speed intranet. Our students are exposed to up-to-date curriculum, technology and techniques. The Department has well experienced & dedicated faculty members with different specializations. Our curriculum is modified, enhanced and updated regularly as we introduce new courses to reflect current topics in this fast-changing discipline. Our faculty is involved in cutting-edge research areas, including computer networks, mobile computing, mobile ad hoc networks, wireless sensor networks, security, image processing, data mining, artificial intelligence, computer architecture and reconfigurable computing. The Department prides itself on good career opportunities for students. Our students graduate with more than 100% placement through campus. Many companies of repute show their interest to visit our Institute for campus recruitment.
Our Vision

To provide excellent technical education in computer science and engineering and produce competent engineers and professionals with high ethical values prepared for life long learning.



Our Mission

To impart quality and value based education in computer science and engineering to solve real world problems with an inclination towards societal issues and research.
To prepare student for professional career with continuous learning.
Professor
Sl.No
Name
Area(s) of Interests
Email
Profile
1
Prof. Lalit Kumar Awasthi
Mobile distributed systems, Fault tolerance, Sensor Networks, P2P networks, Network Security
lalit@nith.ac.in
View
Associate Professor
Sl.No
Name
Area(s) of Interests
Email
Profile
1
Dr.(Mrs.) Kamlesh Dutta
Computer Science & Engineering
kd@nith.ac.in
View
2
Dr. T P Sharma
Distributed systems, Wireless Sensor Networks, MANETs & VANETs
teek@nith.ac.in
View
3
Dr. Siddhartha Chauhan
Computer Science and Engineering
sid@nith.ac.in
View
4
Dr. Naveen Chauhan
Mobile Wireless Networks, Vehicular Ad hoc Netwroks, Internet of Things
naveen@nith.ac.in
View
5
Dr. Divakar Yadav(on lien)
Machine Learning, Natural Language Processing, Information Retrieval, Soft-Computing
divakaryadav@nith.ac.in
View
Assistant Professor Grade-I
Sl.No
Name
Area(s) of Interests
Email
Profile
1
Dr. Pardeep Singh
Natural Language Processing, Artificial Intelligence
pardeep@nith.ac.in
View
2
Dr. Vijay Kumar(on lien)
Metaheuristic Techniques, Deep Learning, Data Clustering, Image Mining
vijaykumarchahar@nith.ac.in
View
Assistant Professor Grade-II
Sl.No
Name
Area(s) of Interests
Email
Profile
1
Dr. Rajeev Kumar
Computer Networks, Wireless Networks, IoT
rajeev@nith.ac.in
View
2
Dr. Nitin Gupta
Wireless Networks, Cognitive Radio Networks, IoT, Fog Computing, Internet of Healthcare Things, Internet of Vehicles
nitin@nith.ac.in
View
3
Dr. Dharmendra Prasad Mahato
Distributed Computing
dpm@nith.ac.in
View
4
Dr. Mohit Kumar
Artificial Intelligence, Machine Learning, Speech Processing, Automatic Speaker Recognition, NLP
mohit@nith.ac.in
View
5
Dr. Arun Kumar Yadav
Information Retrieval, Machine Learning, Database Indexing
ayadav@nith.ac.in
View
6
Dr. Jyoti Srivastava
Natural Language Processing, Artificial Intelligence
jyoti.s@nith.ac.in
View
7
Dr. Priyanka
Adhoc Networks, Wirelss Sensor Networks, Vehicular Networks, Internet of Things
dr.priyanka@nith.ac.in
View
8
Dr. Sangeeta Sharma
Cloud Computing, Virtualization
sangeetas@nith.ac.in
View
Office Staff
Sl. No.
Name
Designation
Phone No.
Email
1
Sh. Chain Singh
Office Attendant SG-II
254401
-
Technical Staff
1
Sh. Sanjeev Kumar
Technical Assistant
254407
-
2
Sh. Jiwan Kumar
Senior Technician
254405
-
List of Laboratories
| Sl. No. | Laboratory Name |
| --- | --- |
| 1 | Objected Oriented Paradigm Lab |
| 2 | Microprocessor and Interfacing Lab |
| 3 | Data Structure Lab |
| 4 | Operating System Lab |
| 5 | Computer Organization and Architecture Lab |
| 6 | Data Base Management System Lab |
| 7 | Compiler Design Lab |
| 8 | Computer Graphic Lab |
| 9 | Digital Image Processing Lab |
| 10 | Computer Network Lab |
| 11 | Artifical Intelligence and Robotics Lab |
7
Dr. Naveen Chauhan
Head of Department
Computer Science & Engineering
National Institute of Technology Hamirpur
Himachal Pradesh, Pin No. 177005, India.
Phone No. : +91-1972 -254400
HoD Email : head.cse@nith.ac.in
Office Email : office.cse@nith.ac.in