Centre for Energy Studies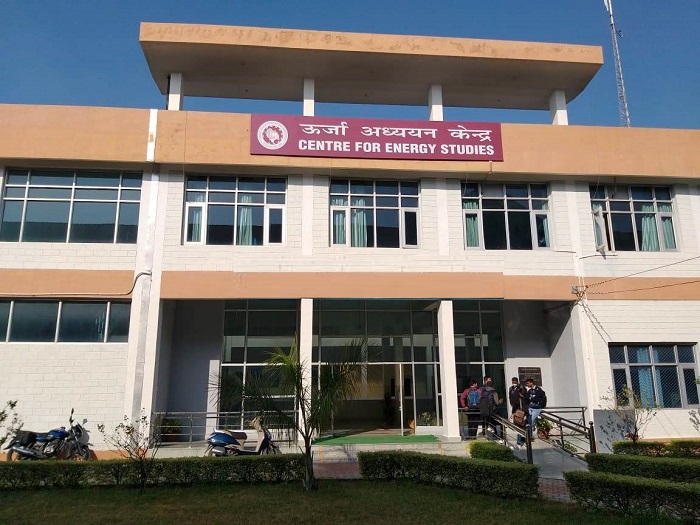 1. Vision, Mission& Goal:
Vision
The Centre aims to foster renewable energy technologies through pedagogical tools, research and human resource development at various levels, and disseminate the information for sustainable development creating transformative impact through various programs
Mission
To enable sustainable and cost-efficient innovations and develop interactive facilities pertaining to the multi-disciplinary areas of renewable energy and environment.
To provide quality higher engineering education (viz. M.Tech., Ph.D.) and training programs (viz. 1 and/or 2 week) for integrating and providing skilled personnel to academia and industry in area of energy and environment.
To promote education and awareness related to energy and its impact on environment by becoming a nodal centre for hilly region.
To develop novel, efficient as well as affordable testing and standardization methods/protocols for operational reliability of equipments and devices related to energy and environment.
To showcase cost-effective, clean and sustainable renewable energy technologies and energy efficiency.
2.Educational Program in the Centre
Interdisciplinary program designed for Energy generation as per MNRE guidelines/Mission
Energy Security: Development and deployment of alternate fuels like hydrogen, bio-fuels and synthetic fuels and their applications to contribute towards bridging the gap between domestic oil supply and demand; lesser dependency on oil imports
Increase in the share of clean power: Renewables like wind, hydro, solar, geothermal, bio & tidal power to supplement fossil fuel-based electricity generation.
Energy Availability and Access: Supplement energy needs of cooking, heating, motive power and captive generation in rural, urban, industrial and commercial sectors
The courses for the students of M. Tech Program in Energy Science and Technology are consisting of:
Core courses includes both theoretical and experimental in different areas of energy
Elective courses from diverse areas of energy studies for specialized knowledge
Open Elective courses offered by other Departments to enhance the knowledge indomains parallel to energy studies
Project work, where special emphasis is placed on the application of the knowledge andtraining for theoretical and experimental research in diverse areas of energy dependingon student's interest
3.Education Program Objectives:
Program Educational Objectives(PEO)
PEO1
To provide skilled personnel with integrated learning of sustainable development, energy conservation, design, modelling and performance analysis to academia and industry in the area of energy and environment. (Preparation)
PEO2
Possess technical competence in the fields of Renewable Energy & allied disciplines and will be successful for the execution of engineering solutions which are technically sound and environment friendly. (Core competence)
PEO3
To provide an academic ambience that allows to develop good scientific and technical skills in students to enable them to provide sustainable and cost-efficient innovative solutions to society. (Breadth)
PEO4
To inculcate in students professional and ethical attitude, teamwork skills, multidisciplinary approach, and an ability to engage in independent and life-long learning. (Learning Environment).
4.Education Program Outcomes (PO)
PROGRAM OUTCOMES (PO)
A student who has met the objectives of the course will possess:
PO1
An ability to independently carry out research /investigation and development work to solve practical problems
PO2
An ability to communicate, write and present a substantial technical report/document effectively
PO3
An ability to demonstrate a degree of mastery over renewable energy and allied systems, at a level higher than the requirements in the appropriate Bachelor's program
PO4
An ability to design, commission and operate renewable energy and allied systems
PO5
An ability to improve renewable energy systems, and assess their impact on overall sustainable development
5.Strategic plan: Goals and Roadmap
The strategic plan identifies immediate and longer-term measures that maintain and enhance the personnel, facilities, information, and other scientific assets that are fundamental to conducting this work at the scope, scale, and quality needed to meet these needs.
Professor
Sl.No
Name
Area(s) of Interests
Email
Profile
1
Prof. N. S. Thakur
Solar Thermal, Heat Mass Transfer, Refrigeration and Air Conditioning, Biomass Gasification, Hydro-Power
nsthakur@nith.ac.in
View
Assistant Professor Grade-I
Sl.No
Name
Area(s) of Interests
Email
Profile
1
Dr. Mamta Awasthi
Environment,Bioremediation, Biofuels, Bioenergy, Environmental Microbiology, Phycology
mamta@nith.ac.in
View
List of Laboratories
25
Projects and Grants to the Centre:
2022-23, Rs.41.04 LakhsScalable Small Scale Business Model For E-Waste Management Through 3Rs,Deep Learning Collection System And Market Chain.
2012-2013, 50 LakhsCapacity building of Various Institutions running UG & PG Courses in RenewableEnergy, Ministry of New & Renewable Energy.
2011-2012, 10.67 Lakh Installation of Solar steam cooking system at Neelkanth Boys Hostal, NIT Hamirpur, Ministry of New & Renewable Energy.
2011-2012, 95 Lakhs Establishment of State Level Energy Park at NIT Hamirpur, Ministry of New & Renewable Energy.
2011-2012, 30Lakhs UNDP/GEF Global Solar Water Heating Project: Performance Evaluation of Flat Plate Collector (FPC) and Evacuated Tube Collector (ETC) based Solar Water Heating System for cold regions, Ministry of New & Renewable Energy.
Dr. Mamta Awasthi
Head of Department
Centre for Energy Studies
National Institute of Technology Hamirpur
Himachal Pradesh, Pin No. 177005, India.
Phone No. : +91-1972 -254749
HoD Email : head.ces@nith.ac.in
Office Email : office.ces@nith.ac.in