Computer Centre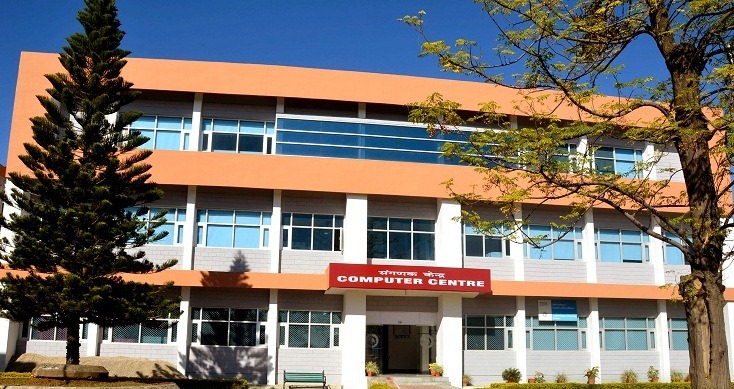 Computer Centre is a central facility, which caters to the needs of different academic departments and various sections of the institute. The mission of Computer Centre at NIT Hamirpur is to create and maintain a computing environment for the pursuit of academic excellence. The ultimate aim of the centre is to provide professional services, promote and assist the use of new computing technology among the students, staff and administration. Computer Centre at NIT Hamirpur aspires to be a leading computational facility in higher education. Computer Centre manages various computing and communication facilities through out the campus. NIT Hamirpur has state-of-the-art campus wide network of more than 2500 voice & data nodes over the fiber backbone with above 100 active devices, wi-fi, Voice over IP (VoIP) and videoconferencing. A fleet of servers from SUN, IBM, HP, Dell etc. A heterogeneous intranet over various flavors of Microsoft Windows and UNIX for hosting Web, Email, DNS, Proxy etc.

The Institute has got 1 Gbps connectivity among NKN networked institutions which includes all the IITs, NITs etc. along with 100 Mbps Internet Bandwidth under National Knowledge Network (NKN), MHRD, Govt. of India. All individual Students, Faculty and Staff are provided with Internet facility in the hostels and residences. Presently, 185 computing nodes including 15 servers, 50 workstations, 30 thin clients, 70 desktops and 20 mobile terminals are installed in various labs of the Centre building. The software facilities for language lab are also available in one of the labs.

To facilitate the use of the latest information technology in Institute's teaching, learning, research and administration; to provide an excellent network environment that facilitates the access and exchange of information; to put innovation in technology transfer to assist the institute in his mission; to enable faculty, staff and students to use the computer and network resources effectively and efficiently; and to aim to provide the best quality IT services in the region, the Computer Centre at NIT Hamirpur continued to re-engineer the process of its service operations for increased productivity and better quality.

In the near future, we will be creating state-of-the-art facilities like cluster computing environment, network storage, VoWifi, Surveillance system, etc. New Computer Centre was inaugurated by Dr. A. P. J. Abdul Kalam (Hon'ble Former President of India) on January 03, 2009.
Functionaries
Sl. No.
Name
Responsibility
Phone No.
Email
1
Dr. T.P. Sharma
Faculty Incharge
254404
fi.cc@nith.ac.in
Officers
Sl. No.
Name
Designation
Phone No.
Email
1
Sh. Anil Kumar
Sr. Scientific Officer & Incharge
254412
akc@nith.ac.in
2
Sh. Jagdish C. Varma
Sr. Scientific Officer
254406
jagdish@nith.ac.in
3
Sh. Ashwani Kumar Sharma
Scientific Officer
254440
ash@nith.ac.in
Technical Staff
Sl. No.
Name
Designation
Phone No.
Email
1
Sh. Ravi Singh
Technical Assistant SG-I
254414
ravicc@nith.ac.in
2
Sh. Rakesh Sharma
Sr. Technician
254446
rakesh@nith.ac.in
Staff
Sl. No.
Name
Designation
Phone No.
Email
1
Sh. Joginder Singh
Attendant
254415
--


2
Sh. Neeraj Kumar
Sr. Attendant
-
neeraj@nith.ac.in
The Computer Centre functions as a service department to academic and administrative sections. The Computer Center, therefore, aims to provide the best quality services in the field of IT keeping in view the needs of users to the best of their endeavours.The Computer Centre serves a population of 4000 students and 400 academic, research and administrative staff. The centre is used by undergraduate and postgraduate students for lab practical, project work and Internet surfing.
The computer centre is providing following kind of services throughout the campus:
Computer Centre provides all kind of computing facilities to the undergraduate and postgraduate students in lab, project and research work.
Internet and E-Mail services throughout the campus for Academic and Research work.
Extension of E-Mail / Internet services to various sections and building is going on. The various departments of the institute are connected through Structured Single Mode Fiber Optic Network to share computational resources.
Maintenance & Troubleshooting of Hardware (PCs, Workstations and Servers), Software and Peripherals like Printers, Scanners and CD-Writers etc. at institute level.
Providing technical support and maintaining data network for all the users in the campus (round about 4000 voice and data nodes).
Network & System Administration, E-mail, Web & Proxy Server, Web design and Internet. Maintenance and configuration of various networking components e.g. Routers, Hub, Switches (edge, distribution and core switches).
Website designing, development and deployment.
Software development to meet the requirements of various departments viz. accounts, examination, library etc.
To impart training to the students and staff.
To conduct practical lab classes of various academic departments.
Office automation activities.
To impart short-term courses in emerging fields.
NETWORK LAYOUT FOR NIT-HAMIRPUR CAMPUS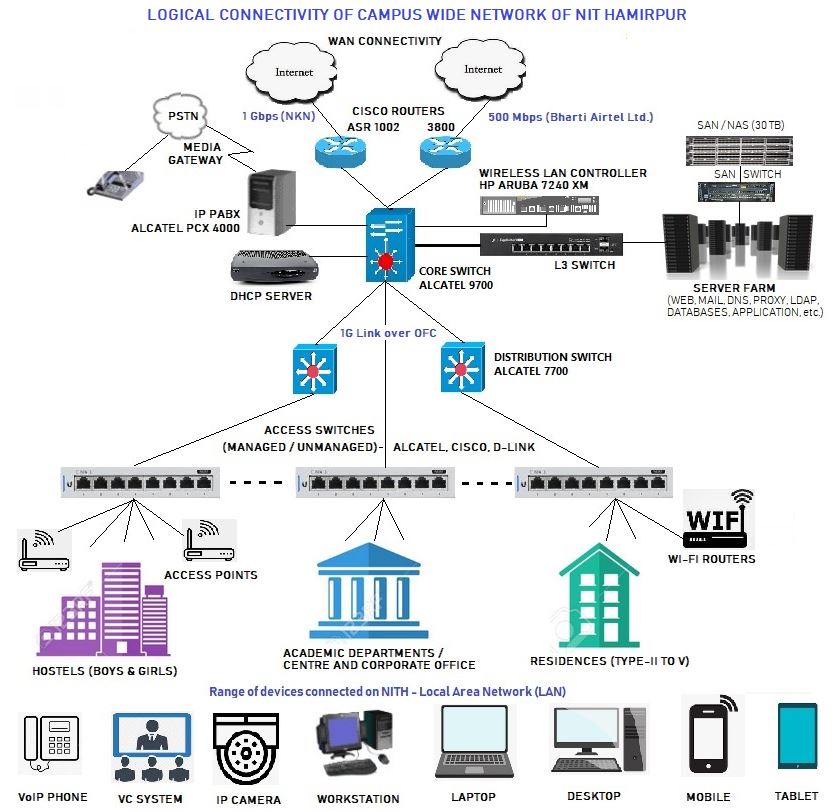 List of Software's
OPERATING SYSTEMS
Windows XP, Vista, 7,8,8.1
Scientific Linux, Fedora, Ubuntu
Red Hat Linux 5.0 to 7.2 (Intel, Sparc and Alpha Platforms)
Irix 6.0 for Silicon Graphics
Sun Solaris 9 and 10
AIX Operating System
Microsoft Windows Server 2003, 2008
PROGRAMMING LANGUAGES
Borland C++ 3.0
Turbo C++
Fortran
Pascal
MU LISP
PDC PROLOG
DATABASES
Oracle 7 Workgroup Server
MS SQL Server 7.0 Enterprise Edition
MS SQL Server 2000 Standard Edition
IBM Web Sphere Application Server
IBM DB2 7.2 (Universal Developer Edition)
OFFICE AUTOMATION
MS Office 97, 2000, XP and 2007
Soft Calc and Soft Word
Word Perfect
SCIENTIFIC SOFTWARE
PSIM- 1 set for 5 users
Proteus Electronic Design System for 10 users
Power World Simulator-1 set for 25 users
Matlab 7.2 for 10 users


Computer Centre provides computational facilities to all users in the Institute. All Registered students, staff and faculty from all Departments, Sections,Centres in the campus can obtain accounts from CC. CC provides electronic mail, world wide web, DNS, FTP and other services.
Computer Centre (CC) is responsible for the core NIT Hamirpur network (includes Internet/intranet facilities: email, web etc).
CC will provide connectivity to each Department, to the gigabit backbone, and also the necessary IP addresses, proxies, email relays etc.
The operation of the network within each Department is the sole responsibility of the Department (Head & OIC Departmental computer LAB) CC will only play an advisory role.
If a Department network misbehaves and causes problems for any other department or the entire campus, or disrupts services, CC will notify same to the concerned Head and disconnect the Department from the core network until the problem is fixed satisfactorily.
To minimize the problem of disconnection, Departments will separate their network into 2 sub-networks (one for Windows and one for Linux/Unix). This will allow CC to turn off only the offending subnet in case of virus/worm attacks.
Use of pirated/illegal software is not acceptable. It is the responsibility of the Departments (Heads) to ensure compliance.
Policy on Help, Complaints and Requests


Network Related: Broadly, the NIT Hamirpur Network is divided into 3 parts:
Departments

For all Departments network connectivity till the main Department Switch is under CC's domain. In case, you can reach your Gateway but not outside your Department, register your complaint here. For all other cases contact your Department OIC Computer LAB.

Hostels

For all Hostels network connectivity till the Hostel Gateway is under CC's domain. For all network related problems please contact your Hostel network secretary.

Residential Area

For the Residential Area, connectivity up to the Switch in your building is under CC's domain. In case, you can reach your Residential Gateway but not beyond (e.g. Department), register your complaint with cc. Any other PC related complaint is to be solved by the residents themselves (e.g. contact a computer vendor).
For any assistance/support/technical problem in Software, Hardware and Networking, please contact the following person on the telephone nos. given below.:
| Sl. No. | Name | Assistance/Support | Phone No. |
| --- | --- | --- | --- |
| 1 | Sh. Anil Kumar | | 254412 |
| 2 | Sh. Jagdish Verma | | 254406 |
| 3 | Sh. Ashwani Kumar Sharma | | 254440 |
| 4 | Sh. Ravi singh | | 254414 |
| 5 | Sh. Rajesh Sharma | | 254454 |
Dr. T.P. Sharma
Faculty Incharge
Computer Centre
National Institute of Technology Hamirpur
Himachal Pradesh, PIN 177005, India
Tel No. : 01972- 254404
FI Email :fi.cc@nith.ac.in
Office Email : office.cc@nith.ac.in
Fax : +91-1972-223834